VMG News
VMG presentations in IEEE VIS2018
21 Sep 2018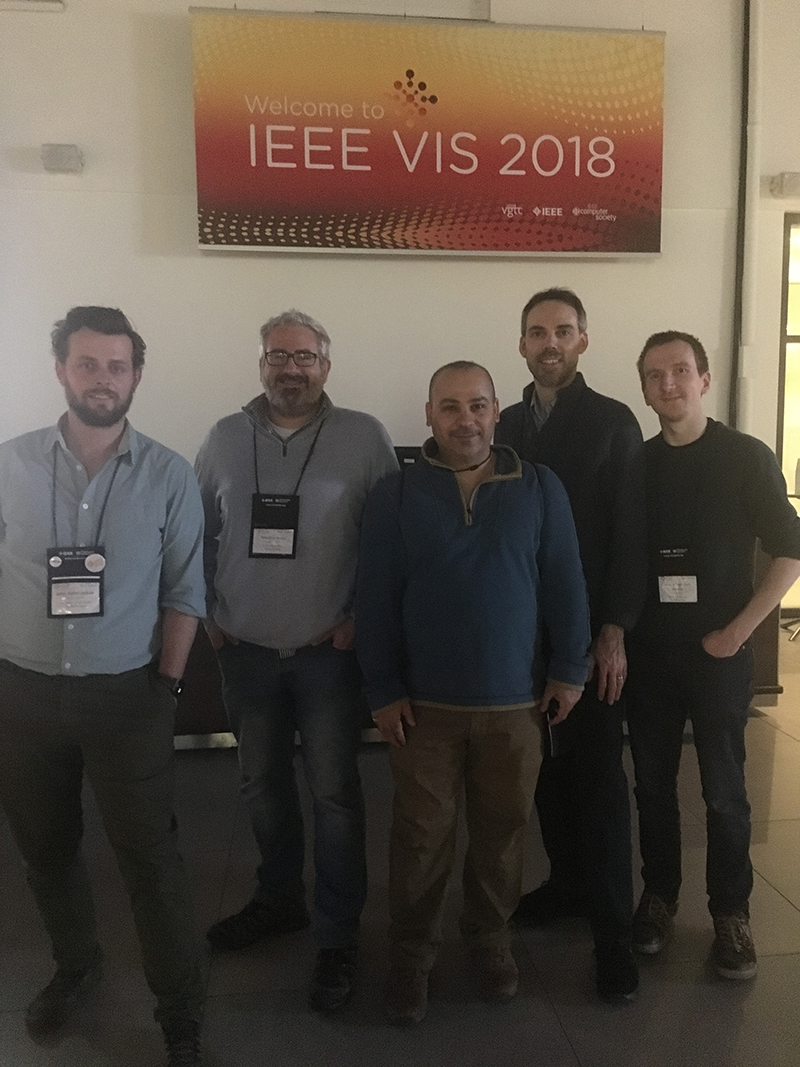 VMG was at the International Conference on Visualization (IEEE VIS 2018), the premier forum for advances in scientific and information visualization, held in Berlin, Germany in October 2018. This weeklong event convenes an international community of researchers and practitioners from academia, government, and industry to explore their shared interests in tools, techniques, and technology.
For the first time we had a group of four participants (Jonathan, Panos, James and Hayder) alond with our collaborator Pete Butcher from University of Chester.
As always, the quality of the work presented and discussed is phenomenal and we return home with lots of ideas for further research.
We presented the following posters and workshop papers:
P. W. S. Putcher, N. W. John, and P. D. Ritsos, "Towards a Framework for Immersive Analytics on the Web," in Posters presented at the IEEE Conference on Visualization (IEEE VIS 2018), Berlin, Germany, 2018. [bib]
J. Jackson, P. D. Ritsos, and J. C. Roberts, "Creating Small Unit Based Glyph Visualisations," in Posters presented at the IEEE Conference on Visualization (IEEE VIS 2018), Berlin, Germany, 2018. [bib]
D. Varghese, J. C. Roberts, and P. D. Ritsos, "Developing a formative visual feedback report for data brokering," in Workshop on Visual Summarization and Report Generation, IEEE Conference on Visualization (IEEE VIS 2018), Berlin, Germany, 2018. [bib]
H. M. Al-maneea and J. C. Roberts, "Study of Multiple View Layout Strategies in Visualisation," in Posters presented at the IEEE Conference on Visualization (IEEE VIS 2018), Berlin, Germany, 2018. [bib]
You can find below more information on: